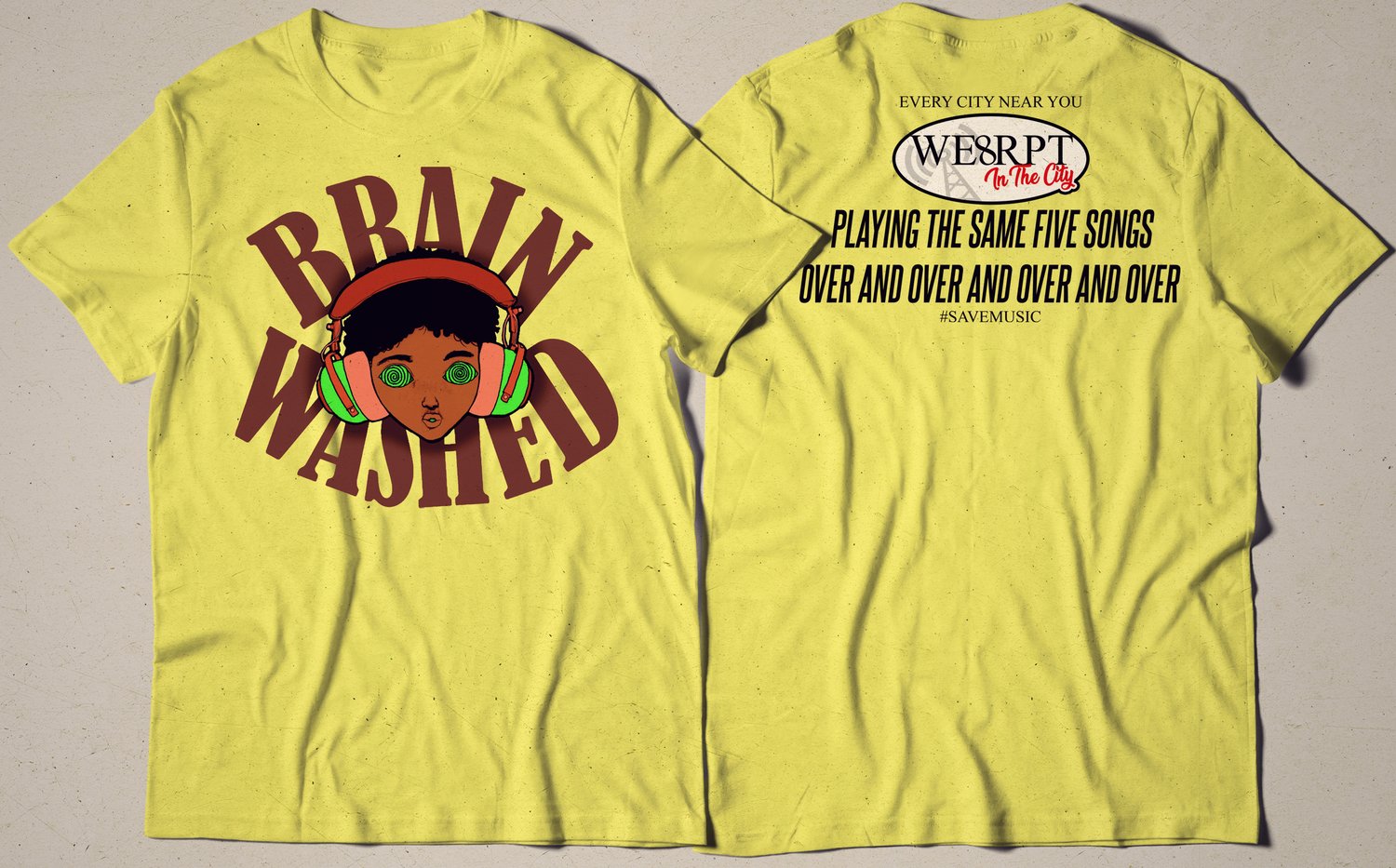 Reintroducing our thought-provoking "Brainwashed" t-shirt design, a powerful STATEMENT that delves into the critical issue of mainstream radio and its impact on our cultural landscape. This design encapsulates the frustration and disillusionment felt by many music enthusiasts, highlighting the absence of uplifting and culturally representative music on the airwaves.
At the forefront of the design, you'll find a captivating image of a young person wearing headphones, their eyes dazed and distant. This striking visual representation serves as a metaphor for the effects of mainstream radio, which often promotes a repetitive and formulaic playlist that fails to capture the true essence of our diverse musical heritage.
The accompanying text boldly states "Brainwashed," calling attention to the detrimental influence that this phenomenon has on our collective consciousness. It challenges the notion that mainstream radio represents the rich tapestry of cultures and artistic expression that exist within our society.
By sporting this design, you become a vocal advocate for change, shedding light on the need for radio to embrace and showcase music that uplifts, inspires, and truly reflects the cultural depth and diversity of our communities. It serves as a rallying cry for artists, musicians, and listeners alike, reminding us all to question and challenge the status quo.
Wear this "Brainwashed" t-shirt proudly and spark conversations that challenge the mainstream narrative, encouraging a shift towards a more inclusive and authentic musical landscape. Together, we can reclaim the airwaves and empower artists whose voices deserve to be heard.
Contributing artist: Mike Tudor (2006)
Concept: Wil Bond
Color: Yellow 4.5-ounce, 100% ring spun US cotton
Non-topstitched 5/8" rib collar
Taped neck and shoulders
Modern classic fit tubular body
Double-needle sleeves and hem